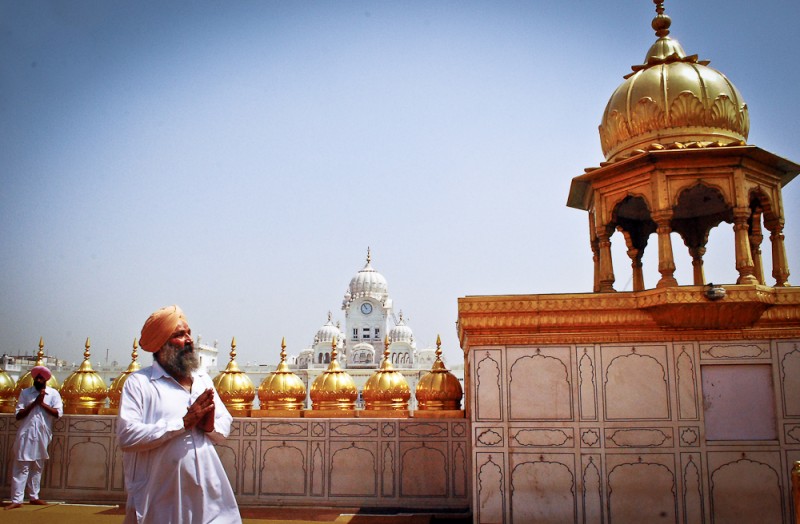 Published in Huffington Post: "Why American Politicians Should Take Islamophobia Seriously: One Week In Brown America"
Click here for more of my Golden Temple photos.
My baby sister wonders if she will have to wear a bulletproof vest during Eid prayers.
If this isn't terrorism, then I don't know what is.
A week ago, a hate-fueled mass shooting by a domestic terrorist left six Sikhs dead in their own house of worship in Oak Creek, Wisconsin. Yet the media still refuses to call the mass shooting of Sikhs "terrorism," let alone call the shooter a "terrorist."
Neither President Obama nor First Lady Michelle Obama has visited families of the victims or the injured in the hospital as they did two days after the mass shooting in Aurora, Colorado on July 20.
A week has gone by since Oak Creek's shooting, and there has been barely a word from either candidate after their initial statements. To add insult to injury, Michelle visited Aurora just this weekend, while the Oak Creek victims' blood is still fresh.
On Sunday, Obama was in Chicago while Romney was in his running mate Representative Paul Ryan's hometown of Janesville, Wisconsin—both cities an equidistant 90 minute drive to Oak Creek. Yet neither politician visited.
The swing state of Wisconsin is a political minefield for both candidates, but as the son of the murdered Sikh temple president says, politics should be set aside for humanity when it comes to a national tragedy.
And yes, it's a national tragedy.
Each day that our elected leaders remain silent about Oak Creek, a very loud message is sent across America about how seriously they take Islamophobia and xenophobia. And each day, another, even louder message from hateful people is sent.
Last Sunday, the same day of the temple murders, the sign for a mosque in Rhode Island was smashed with hammers.
The following day, Monday, a mosque in Missouri was destroyed in the second fire this summer.
On Tuesday, pig legs were thrown at a mosque in California while people prayed there.
On Thursday, Representative Joe Walsh, from my home state of Illinois, accused Americans, who happen to be Muslim, of plotting murder against their fellow citizens in suburban Chicago. And that too, in response to an Egyptian-American's own urging to crack down on Islam.
Nevermind that Muslims in America are Americans—is Representative Walsh sure it's not the other way around? If applying his logic to the past week, white Americans are the ones trying to kill Muslims. And each day that Obama and Romney remain silent about Oak Creek, it continues.
On Friday, no less than 36 hours after Walsh's incitement in suburban Chicago, while 500 people prayed inside and many children played outside, a white man fired shots at the suburban Chicago mosque I frequented as a kid.
In the early hours of Sunday morning, paintballs were fired at a mosque in Oklahoma.
Later on Sunday night, a bottle of acid was thrown at an Islamic school and mosque during evening prayers.
The media needs to take Islamophobia in America seriously by reporting on it in the context of a pattern, not minor, isolated incidents. We need the media to go a step further and do its job of facilitating healthy national discourse.
But more importantly, if politicians like Obama and Romney truly hope to lead our country to a better future, they should speak up—not to ingratiate themselves with Muslims by hosting iftar dinners at the White House—but to make the voices of solidarity and peace louder than the anti-Muslim incitement of their hatemongering colleagues Representatives Joe Walsh, Peter King, Michelle Bachmann, etc.
Rep. Walsh refuses to apologize and "bow down to political correctness."
This isn't about "political correctness" and it doesn't affect only one community of Americans. This is about a widespread hate that endangers the very fabric of American society.
This isn't just about Islamophobia. This is about an atmosphere that condescends the undoubted brownness of this country.
This isn't just close to home. Thisishome.
And the longer Obama and Romney stay silent, the longer this week will get.